About Us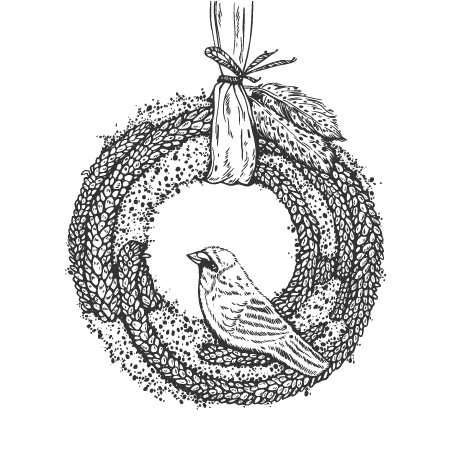 Evergreen Wreath Company is a British retailer and wholesaler of fresh Christmas wreaths, garlands and festive decorative items. 
Our emphasis centres around handcrafting festive wreaths and garlands using traditional techniques, using sustainable and high quality firs, foliage, herbs and mosses. From our founding year we have stayed true to our ethos: sourcing sustainable-foliage to create beautiful wreaths and delivering our products at fair prices through a convenient courier service.
Our office is based in a converted barn in the village of Buckton, Shropshire, set within a courtyard of workshops and storage barns. As Christmas approaches the courtyard springs to life as our thoughts turn to the arrival of our noble fir deliveries and the production of our fragrant wreaths and garlands. 
Festive wreaths and garlands are as much a part of those inherent seasonal traditions and pleasures as the tree itself. We believe a beautiful Festive wreath on your front door is the finest way to deck the halls and welcome your guests at Christmas.  Fresh green-pines, aromatic herbs, dried oranges, limes and cinnamon sticks all combine to create the most welcoming and distinctive Seasonal aromas, and of course, punctuated with bursts of bright red seasonal berries – a feast for the eyes! 
Whether you decorate your home in mid-November or late-December, we guarantee your wreath will arrive in peak condition and with our thickly mossed bases they will last throughout the Season (and usually beyond!). Whether you prefer a traditional style or a modern twist, we hope you find a style that suits your preferences this Christmas. 
 We welcome bespoke orders, small or large, and we are always happy to adapt a design to suit your style and taste. Simply contact our friendly and skilled team to discuss your requirements  Get In Touch  We look forward to creating your beautiful fresh wreaths and garlands in 2018.